Good Beer Guide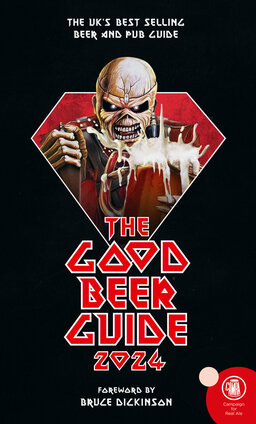 The Good Beer Guide is the UK's best-selling beer and pub guide and it continues to represent the best of the best in the brewing and hospitality industry.
With 4500 pubs, bars, and clubs selected by unpaid volunteers up and down the country, this is the best guide for pubgoers interested in being served a good pint of real ale as well as those who wish to find a local near them that is welcoming and has many other benefits that may appeal.
Each entry contains a short description as well as details of regular beers that can be linked to the brewery section to discover local beers, as well as some treasured national favourites.
This guide is compiled by consumers for consumers and is the most independent and complete guide to find good beer.
Exclusive hardback edition £25.00
With such an iconic image on the cover we felt it was necessary to offer people an opportunity to collect something that will be remembered for many years to come.
In stark contrast to the 50th anniversary edition, this copy is printed black with the unmistakeable lettering from Iron Maiden and the iconic figure of Eddie pulling a pint of real ale.
With the addition of a red bookmark and silver foiling on the lettering to emphasise the 'metal' influence this copy will appeal to collectors and beer enthusiasts.
Only available as a pre-order until 24 July 2023, this one-off hardback will be extra special.
Standard Edition £15.99
The standard edition of The Good Beer Guide 2024 will feature the iconic image of Eddie pulling a pint and the lettering from the world renowned band Iron Maiden.
'Every beer has a story to tell, and every Pub ……well…if the walls could speak- what dramas have unfolded under the oak beamed roofs?
It is easy to forget that the roots of our Pub culture go back for centuries, and perhaps we have been guilty of taking them for granted.
This guide is a clarion call to get involved, to go local, to preserve humanity and courtesy in our Pubs, not have them turned into mere alcohol cash machines.'
Bruce Dickinson
Alternative Edition edition £15.99
To account for those of you who may find the image of Eddie bursting through the cover a bit too heavy, we have decided to offer an alternative cover that features the recognisable lettering and imagery of previous editions.
This cover will only be available to pre-order and is exclusively sold by CAMRA.
With a striking black cover and red detailing this limited run edition will still feature all of the 4500 pubs as well as an up-to-date listing of active breweries from across the UK.
It will also feature the foreword by Bruce Dickinson.
This exclusive paperback edition of The Good Beer Guide will not be available from retailers and is only available to pre-order before 25 July 2023.
Getting your copy
Click here to order your copy of the Good Beer Guide 2024
Privilege Club
Save £'s with the Privilege Club subscription
Subscribe to the Privilege Club and order the 'Standard' Edition or the 'Alternative Edition' for only £12 with free postage
As a Privilege Club subscriber, you also get delivery up to 2 weeks before release date!
As a Privilege Club member, you can also order multiple copies for friends and family.
Please note: The hardback edition is only available directly from the CAMRA shop for £25, and is not available as a Privilege club subscription – this edition will be delivered on or around 28th September 2023.
Click here to find out more about the Privilege Club